M&A Auto Sales LLP
Location & Contact:
640 Gambell St.
Anchorage
,
AK
99501
907-644-0604
Fax:
907-644-0704
View our Website
View our Facebook page
View our Google+ page
View our Cars.com Page
Description:
M&A Auto Sales
Family owned small used car dealer that caters to Anchorage residents and strongly supports our local military personal. A fun atmosphere where your not haggled or pressured into buying a vehicle. Carfax and Autocheck reports offered free of charge on all vehicles.
We pride ourselves on our honesty here, being upfront and truthful from start to finish. We are not "cars sales men" we are customer service agents. Friendships and long term relationships are what we here at M&A Auto Sales are after, selling a vehicle comes secondary to us.
Call us anytime 7 days a week, if we don't answer we will be sure to get back to you.
5/5 Star Rating on Cars.com.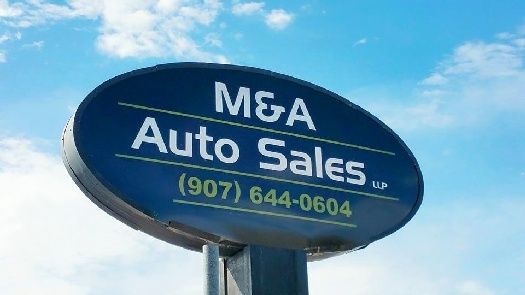 Hours:
Monday: 10A - 6P
Tuesday: 10A - 6P
Wednesday: 10A - 6P
Thursday: 10A - 6P
Friday: 10A - 6P
Saturday: 11A - 5P
Sunday: By appointment only.
Payment Options:
Cash, Credit
Report incorrect information