Bass Pro Shops - Anchorage, AK
Location & Contact:
3046 Mountain View Drive, Glenn Square
Anchorage
,
AK
99501
907-330-5200
Email Us
View our Website
View our Facebook page
Description:
Bass Pro Shops - Anchorage, AK
NEW Anchorage, Alaska OUTPOST Store NOW Open
Located on Glenn Highway at Mountain View Drive, adjacent to Merrill Field Airport, the primary airport serving Alaska's back country. All northbound vehicular traffic to all northern Alaska including Wasilla, Denali, Fairbanks and Mt. McKinley will pass directly by this high profile location.
In addition to being the worlds leading supplier of premium fishing tackle, Bass Pro Shops is also Americas leading supplier of hunting gear and is the top retailer of Remington and Winchester guns and ammo as well as the top retailer of Bowtech and PSE archery equipment.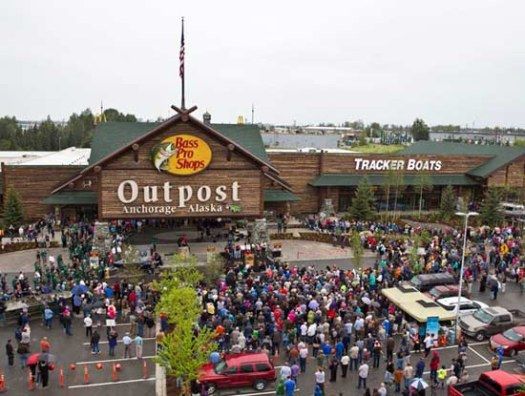 Bass Pro Shops manufactures and sells the worlds leading brands of fishing boats--Tracker, Nitro, SunTracker, Tahoe, Grizzly and Mako factory direct to fishermen. Bass Pro Shops is also the No. 1 dealer in the U.S. for Arctic Cat ATVs and UTVs.
More than just a fishing and hunting store, Bass Pro Shops offers equipment and clothing for hiking, backpacking, wildlife viewing, camping, outdoor cooking and more. A gift and nature center will serve up a wide variety of outdoor-related items, from lamps and dishes to bird feeders and furniture.
FAMOUS FOR CUSTOMER SERVICE,
Bass Pro Shops was one of only eight retailers in America named a J.D. Power Customer Service Champion, based on customer service excellence. Bass Pro Shops has also been recognized numerous times for their conservation and outdoor education efforts as well as for what they do to support our military men and women. Bass Pro Shops was recently named by Advertising Age magazine as one of the Top 10 Hottest Brands in America along with name brands such as Old Spice, M&Ms, iPad and Droid.
Approximately 34 acres adjacent to the store will be developed as a wetlands nature center and it, as well as the store, will pay tribute to Alaska's great outdoor heritage.
Unique exterior and interior motifs have branded Bass Pro Shops as visually appealing, high-quality outdoor stores. The outdoors feel is brought indoors through massive log and rock work, large indoor aquariums and water features stocked with native fish species as well as an extensive collection of museum quality fish and wildlife mounts. Historic photos and exhibits will pay tribute to Alaska's great outdoor heritage.
Explore. Climb. Grow. Ascend.
Hours:
Monday: 9:00am - 9:00pm
Tuesday: 9:00am - 9:00pm
Wednesday: 9:00am - 9:00pm
Thursday: 9:00am - 9:00pm
Friday: 9:00am - 9:00pm
Saturday: 9:00am - 9:00pm
Sunday: 9:00am - 7:00pm
Payment Options:
Cash, Visa, MasterCard, Discover, American Express
Report incorrect information