Alaskan Zipper Pulls
Location & Contact:
Anchorage
,
AK
907-440-6805 or 907-333-1805
Email Us
Visit our website
View our Facebook page
Description:
Alaskan Zipper Pulls
Welcome and Thank you for entering Tassita Tonenas world of...Alaskan Zipper Pulls.
I like to think of my Zipper Pulls as unique pieces of wearable art work. I also refuse to do the same work twice, so no two are identical. Keeps it fun for everyone and I never get bored. You will have a Zipper Pull that is especially made for your needs and style. No one else will have the same that's what makes them so priceless.
My Zipper Pulls are not like any others they are a heavy duty Alaskan version. In Alaska we've got to have a Zipper Pull that can withstand year round tugging. So, I make mine out of a fishing lure. The clasp is called a Slider Clasp. It is what we use for Halibut Fishing. If Sliders can handle a Halibut, then its good enough for my bad boys!!! Plus Sliders not only can withstand a lot of tugging but they also lock on Very securely! They just don't slip on or off.

The hard part is picking what kind of Zipper Pull you would like. I use three different types of materials: Some kind of Bone, Unusual Art Glass, and Moose / Caribou Antler. The posted pictures are example depicting the differences. I have plenty of colorful Zipper Pulls, most of them are girlie girl but I do make a few with Antler that have no color for the men. The Zipper Pulls that are made of Bone do not have glass, however you can special order one. I can always make them to your desired specification (type of materials and colors).
You may want to give them to your child / friends who play on a sports team using their Team Colors. I tell everyone not to worry about the fabric, just use you favorite colors. So, no matter where you place your Zipper Pull, Be it a coat, or from purse to purse you will always love it. If the fabric matches the Zipper Pull, It will blend in and not stand out. Its O.K., if you don't want to Showie but I like Showie. The bone and antler ones look really good on leather jackets and bags. I think its the contrast of the shine in the leather to the Non-Shinny beads. Fur coats are similar, the Art Glass beads look better up against the fur. I'm just giving you some tips don't worry. No matter the style / material you choose, it will look great! I promise.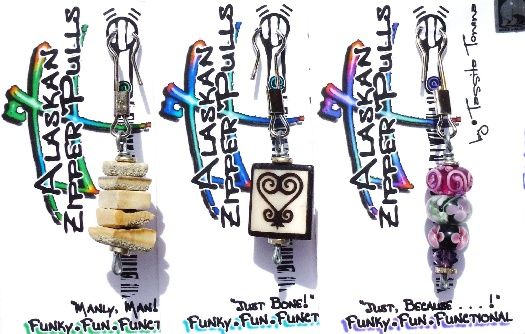 You may order by e-mail or phone. I will need to know what materials, colors, and style (Girlie, Manly, Bold, Sporty, Elegant, etc...)! Then I can get to work. YEAH!!! I accept Checks or Money Orders. When you place your order, I will give you an invoice number and the full price of your order, plus Shipping / Handling fee. Once the order is placed it will be held until payment has cleared. Please note, due to the volume of holiday orders I suggest ordering (21) days prior to needing them, to ensure on time delivery.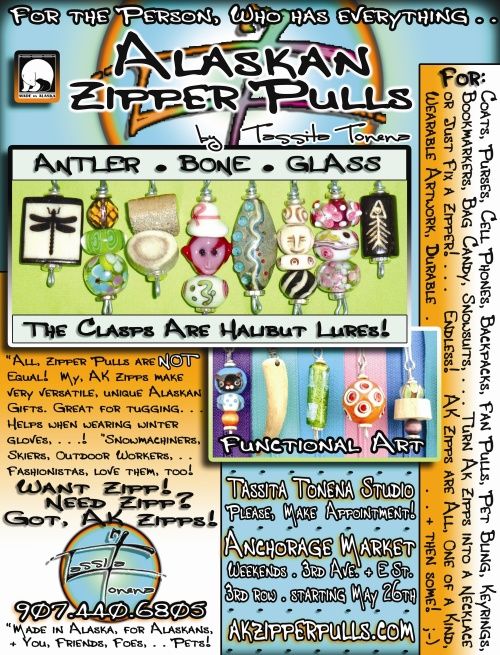 The prices and styles are:
Unusual Art Glass...........$8.00.........."Cute"
Unusual Art Glass...........$10.00........."Hearts /Flowers Cute"
Unusual Art Glass...........$12.00........."Flowers Fancy"
Unusual Art Glass...........$18.00........."Bad Boys - Big Fancy"
Moose / Caribou Antler......$10.00........."With Glass "Cute" - Pieces of AK
Moose / Caribou Antler......$10.00........."Without Glass "Manly, Man"
Moose / Caribou Antler......$15.00........."Tip "Manly Man"
Some Kind of Bone...........$8.00.........."Just Bone"
Some Kind of Bone...........$12.00........."Big Boys"
Special Orders..............$20.00........."Will Talk"...
Whole Sale Orders: 35% Off with $250.00 order
They are a versatile gift. When your order arrives. Please remember that they are not just for Coats or Bags. They are also wonderful for Backpacks, Zipper Shirts, Brief cases, Organizers, Fan Pulls, purses and can be added to Key rings. You can also take the Slider off and turn it into a Necklace, by adding it to a cord or chain.
People will always find a spot for an "Alaskan" Zipper Pull. Let's not forget what a great tool it is!! People with Arthritic hands can easily get into their Bags or Jackets without having to close their grip . The Zipper Pull will lock between the fingers and work just fine. If you know someone that is visually impaired, they are able to tag the compartments to know what section of their Purse or Jacket they are getting into. Shoot, I just wanted to have something chunky to grab onto while I had my gloves on. There is a function to my madness. I have succeeded in that and more. So whether you desire a functional tool of a Zipper Pull or just wanted to dress up a Jacket, Shirt or purse. I have plenty to share with you!
Thank You for sharing your time with me in my world of Zipper Pulls. Hope to hear from you.......
Thanks Again! Hugs from Alaska!
Tassita Tonena.
Hours:
Monday: By Appointment Only
Tuesday: By Appointment Only
Wednesday: By Appointment Only
Thursday: By Appointment Only
Friday: By Appointment Only
Saturday: At the Saturday Market
Sunday: At the Sunday Market
Payment Options:
Cash, Credit, Visa, MasterCard
Report incorrect information