RēGEN Pain Solutions
Location & Contact:
10928 Eagle River Road, Suite 104
Eagle River
,
AK
99577
907-622-1300
View our Website
View our Facebook page
Description:
RēGEN Pain Solutions
RēGEN Pain Solutions exists to provide the Alaska Community with compassionate, professional and respectful medical care in the fields of RēGENerative Medicine and Interventional Pain Medicine. We strive to offer exceptional and innovative treatment options to those who suffer from the pain of orthopedic disorders. We strongly believe that quality and ethical care, delivered in a trusting and educative manner, can offer people the ability to improve their quality-of-life.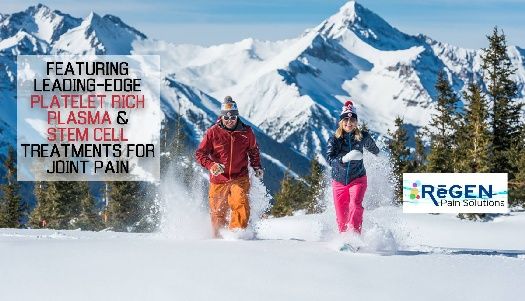 OUR CORE VALUES
> Provide the best care possible under the standards of integrity, honestly, dignity and respect
> Aid other health professionals in delivering integrated and effective pain management
> Spend the proper time educating patients about the conditions and treatments
​> Aim to attain or maintain a person's highest possible physical well-being
> Continually enhance our care via quality-improvement measures
> Provide cutting-edge regenerative medicine options
> Offer comprehensive and sound treatment plans
> Build trusting and therapeutic relationships
> Enrich the community in which we live
Hours:
Monday: 8:00 AM - 5:00 PM
Tuesday: 8:00 AM - 5:00 PM
Wednesday: 8:00 AM - 5:00 PM
Thursday: 8:00 AM - 5:00 PM
Friday: 8:00 AM - 5:00 PM
Saturday: Closed
Sunday: Closed
Payment Options:
Cash, Visa, MasterCard, Discover, American Express
Specials/Events
RēGEN Pain Solutions
Every Weekday

PRP Therapy Platelets do so much more than clot blood. The secret of platelets is their ability to…Read more
RēGEN Pain Solutions
Every Weekday

Advanced Stem Cell Therapy Stem cells are an important part of the body's natural healing process, …Read more
Report incorrect information