Boom! Coffee
Location & Contact:
815 West International Airport Rd.
Anchorage
,
AK
99517
907-348-8303
View our Facebook page
View our KTUU News Article
Description:
Boom! Coffee
Anchorage's First 24hr Coffee Stand
Need a late night pick me up or a hot cinnamon roll? Come to Anchorage's only 24hr coffee stand. Located on the corner of International Airport Rd and Arctic Blvd. Rated 4.9/5 Stars on Facebook with stellar reviews, make sure to stop by and see for yourself.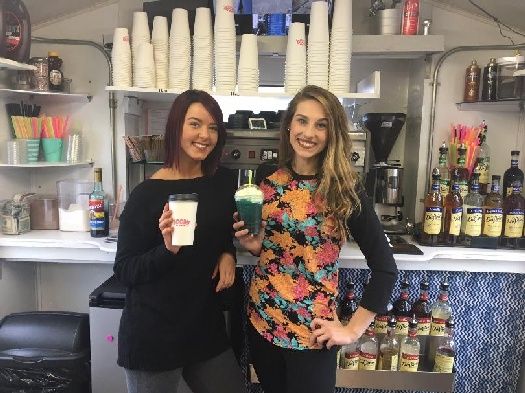 Boom! Coffee barista Emilee Minsky and manager Meghan Woody on opening day. They say the new coffee hut is the first to operate 24-hours a day, seven days per week, in Anchorage. Photo by Paula Dobbyn/KTUU.
ANCHORAGE (KTUU) Article
Anchorage is already one of the country's most caffeinated cities with a booming number of drive-through coffee huts, according to Visit Anchorage. But until Wednesday, it lacked a coffee drive-through that operates 24-hours a day.
That's changed with the grand opening of Boom! Coffee, Anchorage's newest java spot. Tucked into a busy corner of Arctic Boulevard and West International Airport Road, Boom! Coffee offers the usual assortment of espresso drinks, frappes, Red Bull smoothies and snacks.
But unlike other shops that generally close in the early evening, Boom! Coffee plans to crank out drinks night and day, seven days a week.
"This is the third-busiest intersection in Anchorage," said manager Meghan Woody. "We expect to serve lots of people heading to and from the airport."
Pat Kinnebrew, who co-owns the business, said he expects the coffee hut to also be popular with cabbies, police, and others who work night shifts.
Seven women have been hired to cover the dayside hours. Two men -- a former Marine and a former Thursday Night at the Fights boxer – are scheduled to work the graveyard shifts, Woody said.
The coffee hut is outfitted with surveillance equipment.
Hours:
Monday: OPEN 24 HRS
Tuesday: OPEN 24 HRS
Wednesday: OPEN 24 HRS
Thursday: OPEN 24 HRS
Friday: OPEN 24 HRS
Saturday: OPEN 24 HRS
Sunday: OPEN 24 HRS
Price Range:
$ 10 or less per meal
Payment Options:
Cash, Visa, MasterCard
Report incorrect information