Quickie Burger
Location & Contact:
1087 West 27th Ave
Anchorage
,
AK
99503
907-602-3890
Email Us
View our Website
View our Menu
View our Facebook page
View our ADN Review
Description:
Quickie Burger
We offer only the best quality food at the lowest prices we can.
Food truck located in the heart of Spenard with a tent and heater open all year with some of the best food in Anchorage.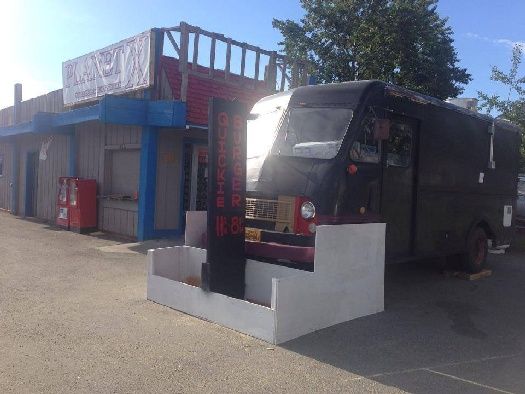 QUICKIE BURGER OPENED IN APRIL OF 2012 AS A SUMMER FOOD TRUCK IN ANCHORAGE. WE QUICKLY BECAME ONE OF THE BEST EATS IN TOWN. WHEN WE REOPENED FOR THE SUMMER IN 2016, ON MARCH 19TH, WE DECIDED TO STAY OPEN YEAR ROUND.
WE HAVE AN INDOOR AREA UNDER CONSTRUCTION AND A HEATED TENT ATTACHED TO THE TRUCK SO THERE WILL BE NO STANDING IN THE COLD OR RAIN WHEN YOU ORDER. WE SERVE OUR BURGERS WITH FRESH NEVER FROZEN GRASS FED BEEF ON A SWEET BUN GIVING IT A LITTLE TWIST OF THE ISLANDS.
COME ON DOWN AND HAVE A QUICKIE OR FEEL FREE TO CALL YOUR ORDER IN.
Hours:
Monday: 11A - 7P
Tuesday: 11A - 7P
Wednesday: 11A - 7P
Thursday: 11A - 7P
Friday: 11A - 7P
Saturday: 11A - 7P
Sunday: CLOSED
Type of Meals Served:
Burgers
Price Range:
$ 10 or less per meal
Payment Options:
Cash, Visa, MasterCard, Discover, American Express
Reservations:
Not Accepted
Report incorrect information