Pizza Man
Location & Contact:
16433 Artillery Rd #104
Eagle River
,
Alaska
99577
907-694-3777
Visit our website
View our menu
View our Take Out Menu
View our Facebook page
View our Trip Advisor Reviews
Description:
Pizza Man
A Family-Friendly Pizza Restaurant
​Takeout • Delivery • Dine In
Fresh, Hot Hand-Tossed Pizza and Fine Italian Foods
24 Beers on Tap, Banquet Facilities, 30 Item Salad Bar, Lunch Specials
Come to Pizza Man, a family-friendly restaurant offering the best in homemade, mouthwatering pizza and Italian delights. Our restaurant combines the feeling of home and the tastes of Italy for you and your family. The result is a comfortable, casual atmosphere featuring scrumptious food and fun for adults and children alike! With delicious, authentic Italian cuisine, fast, free delivery, and attentive service. Pizza Man is an Eagle River favorite for more than 35 years. Try one of our Lunch Specials starting at $7.95. All of our Lunch Specials come with your choice of our 30 item Salad Bar or our Home Made soup plus a soda of your choice. Check out our
30 beers on tap
!
Call 907-694-3777
For Delivery or Pickup
16410 Brooks Lp Eagle River AK 99577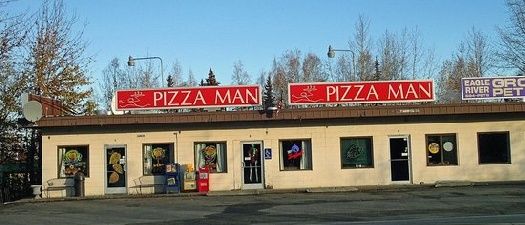 Hours:
Monday: 11:00 am - Midnight
Tuesday: 11:00 am - Midnight
Wednesday: 11:00 am - Midnight
Thursday: 11:00 am - Midnight
Friday: 11:00 am - Midnight
Saturday: 11:00 am - Midnight
Sunday: 12:00 pm - Midnight
Type of Meals Served:
Subs, Sandwiches, Pasta Ravioli, Childrens Menu, Wings Sausage, Meatballs, Spaghetti, ziti, Rustica, Lasagna, Salads, Pizza's, Calzones, Seafood.
Price Range:
$$ up to 20 per meal
Payment Options:
Cash, Visa, MasterCard
Reservations:
Not Accepted
Report incorrect information