Varsity Sports Grill
Reserve Online
Location & Contact:
3550 Providence Dr.
Anchorage
,
AK
99508
907-786-7835
Email Us
View our Website
View our Menu
View our Facebook page
View our Twitter page
View our Google+ page
Make a RESERVATION HERE
Description:
Varsity Sports Grill
An exciting and spirited eatery overlooking the performance gym at the Alaska Airlines Center. Fresh food, craft beer, wine and patio for amazing outdoor eating.

Varsity Sports Grill is Anchorage's first and only Live Sports Bistro!
Alaska Airlines Center at UAA - 4th floor/Mezzanine
Come in, relax and enjoy Anchorages finest new restaurant! Located on the 4th floor of the Alaska Airline Center, the Varsity Grill offers a bird's eye view of the new UAA sports arena through spectacular floor to ceiling windows. The grill is located on the top floor of the Alaska Airlines Center, the Varsity Sports Grill overlooks the main performance/competition arena. This upscale sports pub features a wood-fired pizza oven and plenty of flat screen TVs to watch all the action. The talented chefs showcase their craft with specialty salads, burgers, Alaskan-flare entrees and, among other gourmet items, a variety of artisan pizzas. The Varsity Sports Grill will be its own destination, game or no game.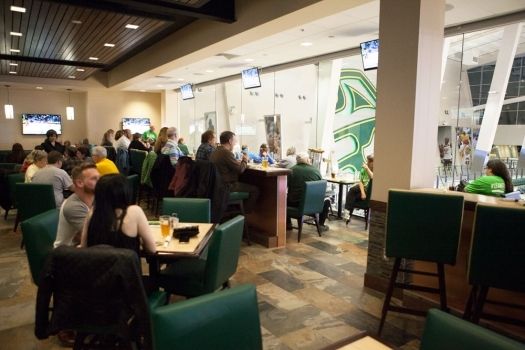 Bring your friends and watch the home games, or catch the latest sports broadcasts on our wide screen TV's. We also offer dining on a spacious outdoor balcony (weather permitting) with a beautiful view of the Chugach Mountains.
Varsity Grill is open Monday for lunch, and Tuesday through Saturday for lunch and dinner. Private Dining options are available by reservation only, please call for more information to 907-786-7835.
Paying patrons receive complimentary parking during their visit. Please note that the Grill may have limited access or be closed during special events in the Arena, so be sure to check back for details.
Reservations welcome by phone at 907-786-7835
Hours:
Monday: 11:00 AM - 1:30 PM
Tuesday: 11 AM - 1:30 PM / 5:00 - 9:00 PM
Wednesday: 11 AM - 1:30 PM / 5:00 - 9:00 PM
Thursday: 11 AM - 1:30 PM / 5:00 - 9:00 PM
Friday: 11 AM - 1:30 PM / 5:00 - 9:00 PM
Saturday: 5:00 - 9:00 PM
Sunday: Closed
Type of Meals Served:
Fresh food, craft beers and wine.

From soups and salads, to burgers and sandwiches. Fired-oven pizza, steak and seafood. Delicious desserts.

Open for lunch and dinner.
Price Range:
$$ up to 20 per meal
Payment Options:
Cash, Check, Visa, MasterCard, American Express
Report incorrect information