Yogurt Works
Reviews
Location & Contact:
3421 E Tudor Road
Anchorage
,
AK
99508
907-868-9098
View our Website
View our Facebook page
View our Twitter page
Follow us on Instagram
View our Yelp Reviews
Description:
Yogurt Works
Good for your tummy. Good for you.
Our yogurts are a great source of calcium and protein and are low in cholesterol and sodium, promoting a healthy immune and digestive system.
Low in sodium:
Helps reduce the risk of high blood pressure
Excellent source of calcium:
Crucial for strong bones and teeth
Contains probiotics:
Helps maintain general digestive health
Certified Live and Active Cultures:
Lactobacillus Bulgaricus, Lactobacillus Acidophilus, Streptococcus Thermophilus, and Bacillus Lactis.
Don't worry - we can't pronounce those either.
Helps in development of superhuman abilities***
***Claim not yet verified
Don't forget to use your Punch Card!
6oz of FREE YogurtWorks deliciousness when you reach 10!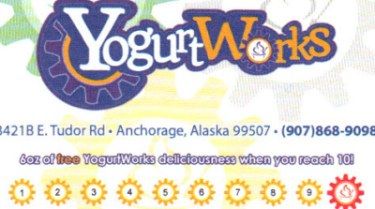 Hours:
Monday: 1:00 pm - 11:00 pm
Tuesday: 1:00 pm - 11:00 pm
Wednesday: 1:00 pm - 11:00 pm
Thursday: 1:00 pm - 11:00 pm
Friday: 1:00 pm - 12:00 am
Saturday: 1:00 pm - 12:00 am
Sunday: 1:00 pm - 9:00 pm
Type of Meals Served:
Desserts, Gluten-Free, Ice Cream & Frozen Yogurt
Price Range:
$ 10 or less per meal
Payment Options:
Cash, Visa, MasterCard, Discover, American Express
Report incorrect information