CLOSED: Crossbar Sports Restaurant
Reviews
Location & Contact:
2830 C Street
Anchorage
,
AK
99503
907-569-2222
View our Website
View our Menu
View our Facebook page
View our Twitter page
View our Instagram page
Description:
Crossbar Sports Restaurant
YOUR DESTINATION FOR LOCAL FOOD, DRINKS, SPORTS...
and HOCKEY!
Welcome to Crossbar, Alaska's hottest new sports bar and restaurant! We've blended everything you'd expect of a modern sports-viewing locale with our own unique, vintage twist. Combine that atmosphere with our savory menu & top-notch bar and you've got Anchorage's premiere destination for all the big games!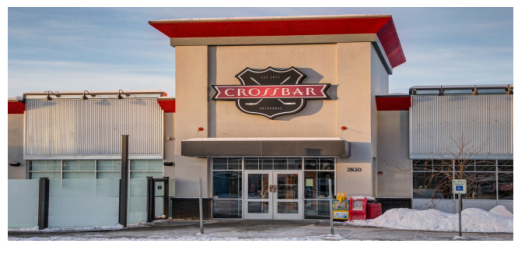 Sports at Crossbar
Let's face it, sports are awesome! But if you can't make it there in person then Crossbar is your premiere destination for the big game! Nothing can compare to getting your buddies together around one of our many flatscreens and rooting on your team! Did we mention the great food and drink options yet? No? Well we've got those too!
Proudly broadcasting the week's big games from the NFL, NHL, and MLB!
Hours:
Monday:
Tuesday:
Wednesday:
Thursday:
Friday:
Saturday:
Sunday:
Payment Options:
Cash, Visa, MasterCard
Report incorrect information