Outback Steakhouse
Location & Contact:
101 West 34th Avenue
Anchorage
,
Alaska
99503
907-562-8787
Visit our website
View our Dinner menu
View our Weekend Lunch menu
View our Joey Kids menu
Curbside Take-Away Online Ordering
View our Facebook page
Description:
Outback Steakhouse
Outback Steakhouse is an Australian themed steakhouse restaurant voted #1 Best Steak in the 2011 Zagat Survey of National Full-Service Restaurant Chains for the third consecutive year. Outback Steakhouse starts fresh every day to create the flavors that our mates crave. Best known for grilled steaks, chicken and seafood, Outback also offers a wide variety of crisp salads and freshly made soups and sides. New creations and grilled classics are made from scratch daily using only the highest quality ingredients sourced from around the world.
Have Fun. Get Rewards.
Join My Outback Rewards today to start earning points towards exciting
rewards, experiences and great offers from Outback.
Sign up now!
Click and Pick Up
Outback's convenient Curbside Take-Away Online Ordering is easy - just point, click and head to your local Outback. We'll be there ready to deliver our bold, fresh flavors right to your car. You also can reorder from a previously saved order and order for a future date -
Order Now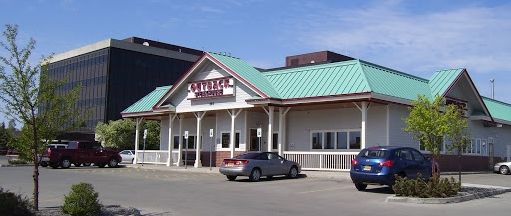 NOW OPEN FOR LUNCH DAILY
Hours:
Monday: 12:00 pm - 10:00 pm
Tuesday: 12:00 pm - 10:00 pm
Wednesday: 12:00 pm - 10:00 pm
Thursday: 12:00 pm - 10:00 pm
Friday: 12:00 pm - 11:00 pm
Saturday: 12:00 pm - 11:00 pm
Sunday: 12:00 pm - 9:00 pm
Price Range:
$$ up to 20 per meal
Payment Options:
Cash, Visa, MasterCard
Reservations:
Accepted
Report incorrect information