Uncle Joe's Pizzeria - Downtown
Reviews
Location & Contact:
428 G Street
Anchorage
,
AK
99501
907-279-3799
Visit our website
View our menu
View our Facebook page
Description:
Uncle Joe's Pizzeria - Downtown
We cook with only the finest ingredients: fresh vegetables, fine meats, vine ripe tomato sauces, and hand made dough. Every Pizza, Calzone, or Pasta Dinner is made to order, one at a time with pride.
PIZZA & BEER
If you love our pizza at home, you'll love it even more with a cold Micro-Brew in hand. Visit one of our dining rooms and enjoy a fine selection of wine and draft beer with your Pizza.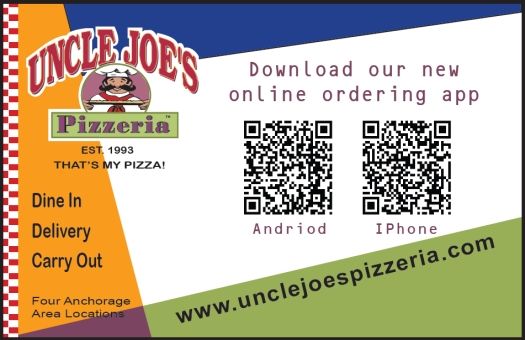 Hours:
Monday: 11:00 am - 11:00 pm
Tuesday: 11:00 am - 11:00 pm
Wednesday: 11:00 am - 11:00 pm
Thursday: 11:00 am - 11:00 pm
Friday: 11:00 am - 2:00 am
Saturday: 11:00 am - 2:00 am
Sunday: 12:00 pm - 10:00 pm
Type of Meals Served:
Stone Baked Pizzas, Gyros, Salads, Pizza by the Slice, Beer & Wine, Subs, Hoagies, Pork Ribs, Wings, Appetizers, Kids Menu, Desserts
Price Range:
$$ up to 20 per meal
Payment Options:
Cash, Visa, MasterCard
Reservations:
Not Accepted
Report incorrect information