Sunset Glacier Cruise - Anchorage, AK

View Larger Map
Date & Time:
Every Friday Saturday Sunday
June 16, 2017 - August 13, 2017
At 7:15pm - 9:45pm
Location & Contact:
Phillips Cruises & Tours LLC / 26 Glacier Cruise
519 W 4th Ave
Anchorage
,
Alaska
99501
907-276-8023
SUNSET GLACIER CRUISE
June 16 - August 13, 2017 - Departs Friday, Saturday, Sunday

June 21st Summer Solstice, July 3rd, and 4th

7:15 PM - 9:45 PM

$99 Adult + tax/fees, $69 Child age 2-11 + tax/fees


HIGHLIGHTS


Explore Blackstone Bay in the Land of the Midnight Sun


Evening is a special time to view the glaciers


View waterfalls, glaciers and wildlife


Complimentary hot meal, coffee, hot tea, and ice water


Professional narration by Captain and Crew


Exclusive No Seasickness Guarantee


SUNSET GLACIER CRUISE ROUTE
Cruise under the midnight sun!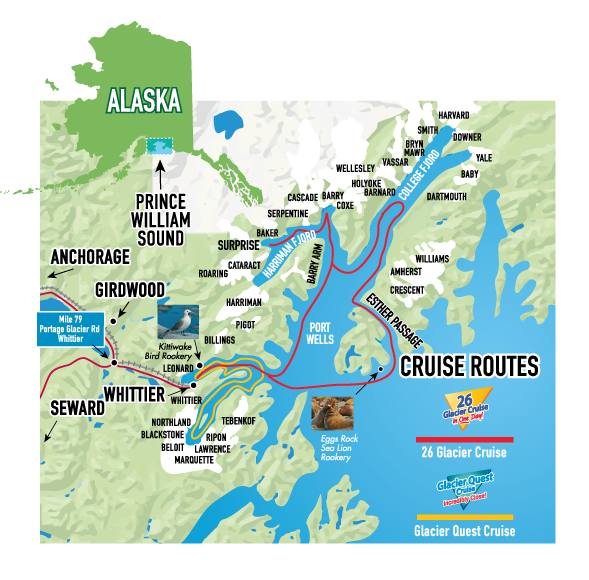 Phillips Cruises & Tours evening Sunset Glacier Cruise follows the yellow route into Blackstone Bay. Our 2.5-hour cruise is the perfect way to spend the evening viewing the glaciers of Blackstone Bay on board the M/V Klondike Express. Our high-speed catamaran can get to the glaciers fast to allow more time to view these massive rivers of ice through our large picture windows and from our spacious outdoor viewing areas. The captain will slowly rotate the boat and take in the views from every angle, allowing everyone time to view the glaciers. 
All narration will be provided by the captain and crew. A complimentary hot meal will be served on the way to the glacier. Our self-serve courtesy stations have tea, coffee and ice water are available throughout the cruise. A full-service saloon features a variety of snack and beverages for purchase including wine, Alaska ales, specialty cocktails and hot drinks. And of course, our cruise comes with our exclusive "No Seasickness Guarantee" ensuring every guest a comfortable, smooth cruise aboard our first class catamaran.
THE BOAT: M/V KLONDIKE EXPRESS
The M/V Klondike Express is the largest, fastest and most luxurious catamaran in Alaska. This 137-foot high-speed catamaran is Coast Guard certified for 328 passengers and crew. The vessel has three decks, two of which are enclosed and heated and the third deck has a large outdoor viewing area. The M/V Klondike Express is a smoke-free vessel.
Reserved indoor booth style seating in comfortable upholstered booths with tables is reserved for every passenger on board. Large picture windows offer panoramic views for all guests. A saloon, snack bar, and gift shop are a few of the other amenities available to our guests.
There are seven restrooms on the M/V Klondike Express and each deck has a baby changing table in the ADA accessible restroom. A hot meal is prepared on board in our galley and served shortly after departure. Guests may purchase drinks or snacks on board. More about the boat...