Alaska Experience Theatre - AET
Location & Contact:
333 W 4th Ave
Anchorage
,
Alaska
99501
907-272-9076
Email Us
Visit our website
View our Facebook page
Description:
Alaska Experience Theatre - AET
Discover the new state-of-the-art projection system at the Alaska Experience Theatre in the heart of downtown Anchorage. For those who have a limited time in Anchorage and would like to see the many spectacles Alaska has to offer in just minutes, you must see Journey to Alaska and the Northern Lights Adventure. If you have a more leisurely schedule, take advantage of our FREE earthquake exhibits and the 4th Avenue Market Place historical pictorials and art gallery.
Alaska Experience Theatre
Downtown Anchorage has its very own 96-seat theatre with a 40-foot screen that will make the entire audience feel immersed into whatever may be showing. Whether it be our summer showings of Journey to Alaska or one of our 3D featured presentations, you will find this to be one of Anchorages best little theatres.
The Alaskan Good Friday Earthquake
March 27, 1964, Good Friday, marks the day North America recorded it's largest earthquake at a magnitude of 9.2 - making it the second largest earthquake in the recorded history of the world next to the Great Chilean Earthquake that took place in 1960 at a magnitude of 9.5.
Be sure to join us at the Alaska Experiences Safe-Quake Theatre as we relive and listen to those who rode through this catastrophic event over 40 years ago.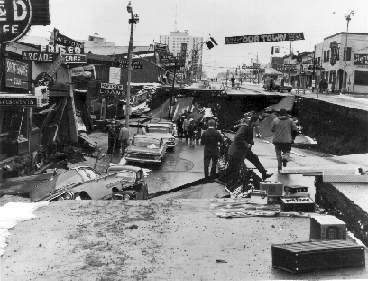 Self-guided Tours
Upon approaching the 4th Avenue Market Place, youll notice the Earthquake murals and the self-guided historical Anchorage tour featuring larger-than-life Iditarod Trail Sled Dog Race murals and a 5,000-year pictorial of Anchorage history.
Follow the dog prints from E Street side of Sunshine Plaza to the C Street side of the 4th Avenue Market Place to learn the history of this great city and become immersed in its culture.
It all leads to the Tlingit totem pole located outside and Fourth Avenue and C Street. This is Anchorages first and only totem pole.
When you finish the tour, stop by one of the dozen retail shops, have a bite to eat at one of the restaurants, or treat yourself at a coffee shop and explore the
indoor exhibits
.
Hours:
Monday: May 1 - Sep 15: 10am-7pm | Sep 15 - May 1: 11am-5pm
Tuesday: May 1 - Sep 15: 10am-7pm | Sep 15 - May 1: 11am-5pm
Wednesday: May 1 - Sep 15: 10am-7pm | Sep 15 - May 1: 11am-5pm
Thursday: May 1 - Sep 15: 10am-7pm | Sep 15 - May 1: 11am-5pm
Friday: May 1 - Sep 15: 9am-7pm | Sep 15 - May 1:
Saturday: May 1 - Sep 15: 10am-7pm | Sep 15 - May 1: 11am-5pm
Sunday: May 1 - Sep 15: 10am-7pm | Sep 15 - May 1: 11am-5pm
Payment Options:
Cash, Visa, MasterCard
Report incorrect information