Tanalian Aviation Inc
Location & Contact:
2600 E. 5th Ave
Anchorage
,
AK
99501
907-280-8023
View our Website
View our Facebook page
View our Twitter page
View our Google+ page
Description:
Tanalian Aviation Inc
We are a full service helicopter charter company located at Merrill Field, just a couple minutes from downtown.
From a scenic tour to Knik Glacier, or a Night Time 'City of Lights' flight, we are the perfect way to start or end your evening!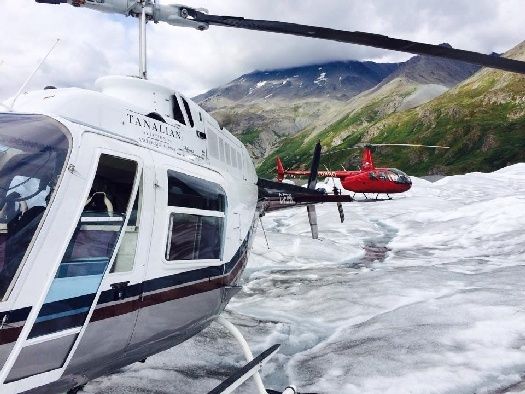 Thank you for flying with Tanalian Aviation!
We have been in business in Alaska for over 20 years and have a perfect safety record.
We employ professional pilots with tons of mountain flight experience to give you the smoothest and most enjoyable ride possible.
We operate the Robinson R44-II Helicopter, the most popular aircraft of its kind Worldwide.
The R44 can accommodate up to three passengers at a time (weight restrictions may apply). For larger groups we will take multiple helicopters which gives you the chance to photograph your friends IN FLIGHT!
Our tours depart multiple times during the day so you are sure to find a time that works for you.
Read our tour policy here
.
Tanalian Aviation is proud to serve you and share our beautiful Alaskan scenery in the best way possible to see it, from the air!
*Two seat minimum purchase required on most flights. Single riders MAY be able to go with a larger group or in a smaller helicopter if weight allows. Please ask us for details!
Hours:
Monday: Always open
Tuesday: Always open
Wednesday: Always open
Thursday: Always open
Friday: Always open
Saturday: Always open
Sunday: Always open
Payment Options:
Cash, Check, Credit, Debit, PayPal, Visa, MasterCard, Discover, American Express
Report incorrect information