T.C.B.G. - Trapper Creek Bluegrass Festival
Location & Contact:
Boots Bison Ranch
Trapper Creek
,
AK
Email Us
View our Website
View our Facebook event page
Description:
Trapper Creek Blue Grass Festival
Established 2005.
2015 EVENT DATES: May 22 - May 25
May 22 at 12:00pm to May 25 at 3:00pm
THE BEST DARN FEST AND CAMP OUT IN ALASKA! Learn more online at the Boots Bison Ranch facebok page but rest assured, we're the old timey and grass roots kind of awesome Alaskana you've been looking for! Every year we host a 3 day fest like no other, the best in the Alaska, hands down, and we welcome you to join us! TCBG is your Best Camp out Festival in the State featuring performances by Sahara Storm Productions and Fairbanks Fire & Flow! See complete schedule below. Schedule subject to alteration and changes without notice.
Keep up to date on the most current info at our facebook event page at bit.ly/tcbg15fb
NO STINKIN' ONLINE TICKETS - BUY LOCAL

Tickets on Sale Now at these fine and dandy Alaskan businesses:
+Planet X Vapor & Smoke and Rusty Revolver in Spenard
+Grass Roots in Guitar Fairbanks
+Trapper Creek Trading Post
+Sugar Magnolias in Soldotna
+The Fringe in Homer


TICKET PRICING - EARLIER YOUR BUY - MORE MONEY YOU SAVE!

Early bird pricing is over. Save $25 if you buy in April.
Save $15 is you buy in May up the day before the event.


Ticket cost by month: $50 in April

$60 in May | $75 at gate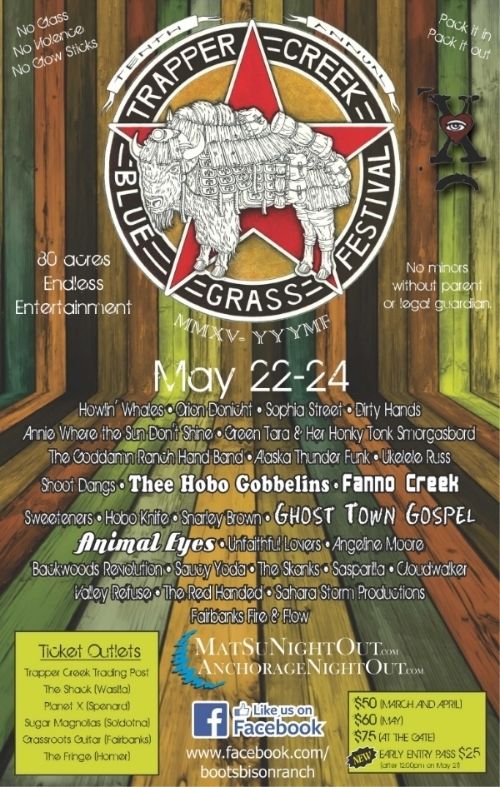 Trapper Creek Bluegrass Festival 2015 Line Up

Gates open at noon Fri May 22
6pm - Howling Whales
7pm - Slim Jim Crowbar Feat. Orion Donicht
8pm - Sophia Street
9pm - The Dirty Hands
10pm- Annie Where the Sun Don't Shine
12pm - The Sweeteners
1am - Hobo Knife

Sat May 23
3pm - Green Tara and her Honkytonk Smorgasborg
5pm - Skyler Fell Justin Boot & the Goddamn Ranch Hand Band
6pm - Alaska Thunder Funk
7pm - Ukelele Russ
8pm - The Shoot Dangs
9pm - Thee Hobo Gobbelins
10pm - Fanno Creek
11pm - Ghost Town Gospel
12am - Animal Eyes
1am - Snarley Brown

Sun May 24
3pm -Spank Williams
4pm - Angeline Moore
5pm - Backwoods Revolution
6:30 - SAUCY YODA
8pm - The Dirty Skanks
9:30 pm - Sasparilla
11pm -Justin Boot


RULES OF EXCELLENCE FOR TCBG

1. ABSOLUTELY NO FIRES // fire risk is exceedingly high
***NO FIRES, PERIOD!***
2. NO GLOWSTICKS
3. NO GLASS
4. NO ATV'S
5. NO UNRULY PETS
6. BE EXCELLENT TO EACH OTHER!
Hours:
Monday:
Tuesday:
Wednesday:
Thursday:
Friday: 6:00pm - 1:00am
Saturday: 3:00pm - 1:00am
Sunday: 3:00pm - 11:00pm
Report incorrect information