Alaska Industrial Hardware (AIH)
Location & Contact:
2192 Viking Dr
Anchorage
,
AK
99501
907-276-7201
Email Us
View our Website
Description:
AIH Company History
Alaska has many great companies helping build the future for Alaskans. One is Alaska Industrial Hardware (AIH), which marked its 50th anniversary in 2009. With its half-century history, AIH has proved that a small store with a bare-bones beginning can grow into a strong and established company with the capability of flourishing and overcoming economic downturns. Alaska Industrial Hardware's beginnings were indeed humble. James Thompson founded it in 1959 in a Quonset hut on the corner of the Seward Highway and Fireweed Lane in Anchorage. Initially, AIH started out with a simple plan: buy surplus nuts and bolts, repackage, and sell them. As it turned out, the demand grew so intense that the founder sought to expand on his initial plan. It turned out to be a profitable one. To date, AIH has grown its business to include eight statewide locations that offer a complete selection of hand and power tools, builder hardware, contractor and industrial supplies, and maintenance and safety products. AIH prides itself with offering quality goods and services at competitive prices. As Mike Kangas, AIH CEO and general manager says, "All of our efforts and resources are committed entirely to the state of Alaska with a $15 million on-hand inventory. With the short building season, delays cost money and our customers know, expect, and appreciate that they can get it the same day, any day at AIH - something no one else in the state can boast. AIH is an Alaska company employing Alaskans with all profits staying in Alaska."

Employees Make The Difference
The company attributes much of its success to its employees. AIH's 230 employees are considered the company's No. 1 asset and its backbone. Employees are rewarded through the ESOP (employee stock ownership) Program. This program puts the burden on everyone to watch the bottom line, not just management. By allowing ownership of company shares, employees feel part of the company by sharing in its profits. AIH has had its share of ups and downs. During the great earthquake of 1964, the company suffered many losses, as did all of Alaska. Thanks to the resilience of its workers and the surge in the demand for construction supplies, the company was able to make a positive turnaround. Kangas recalls, "They were selling nuts and bolts by the bucket as fast as they were scooped up off the floor during the cleaning of our store."In 1974, AIH saw another increase in growth with the construction of the trans-Alaska pipeline. After the Exxon Valdez disaster of 1989, the company also experienced an increase in business and has since reflected positive economic trends in the state.
Products by Category
Adhesives Sealants & Lubricants
Adhesives | Attachments | Caulking | Concrete | Lubricants | Sealants | Tape
AIH Gift Cards
AIH Gift Cards
Automotive
Auto Marine | Auto Repair | Automotive Heaters | Beacon/strobe | Bearings Blasting Compressors/acc | Creepers/stools | Fluid Control | Fluids | Grease Jacks/stands | Oil | Tires | Towing Etc. | Winch

Construction Equipment
Air Movers/dryers | Books | Cleanup/coverup | Communication Equipment Concrete Equipment | Drywall | Foam Kits | Generators | Hydraulic Cylinders Measure/survey | Nailers/staplers | Pneumatic Equipment | Sawhorses | Storage Options | Tile Equipment | Transfer Pumps | Washers | Welding

Construction Hardware
Hardware | Keys | Locks & Doors

Electrical
Batteries | Cable/wire | Conduit | Extension Cords | Lighting | Power Box Systems Power Supply | Security | Testing

Fasteners
Anchors | Bolts | Clips Etc. | Concrete | Metal | Nails | Nuts | O-rings | Rivets Screws | Staple/tacking | Staples | Threading | Washers |
Hand Tools
Bars | Cases | Cutting Assistance | Cutting/scraping | Hammers | Handles | Hex Keys/wrenches | Impact Driver | Measuring | Nutdrivers | Pliers | Protection Punches & Chisels | Saws | Screwdrivers | Sockets | Specialty Tools | Threading Tool Boxes | Tool Carrying | Touch-up | Vises/clamps | Wrenches

Maintenance & Janitorial
Brooms/brushes | Buckets/tubs/totes | Cleaners | Floors & Windows | Vacuums Waste Management

Material Handling
Drums/pallets | Ladders | Moving Equipment | Packaging/shipping Products Pulling/hoisting | Shelving | Shrinkwrap | Specialty Cleats | Storage | Straps Etc. Walls/roofing | Wheels

Outdoor Equipment
Chainsaws | Circular Saw Attach | Hole Diggers | Landscaping | Lawn/weeds | Log Accessories | Saws | Spraying/watering | Storage Shelters | Tire Accessories Wood Chopping

Outerwear
Body Clothing | Footwear | Gloves

Paint & Sundries
Cleaner/compounds | Finishing | Labeling | Paint | Paint Accessories | Sprayers

Plumbing
Bath & Kitchen | Cleaners/cements | Cutting | Fittings | Flaring/bending | Oils Pipe/drain Cleaning | Plumber Sanding | Reamers | Soldering | Stands/vises Threading | Tubing | Valves | Wrenches

Power Tools
Abrasives | Air Tools | Bases | Blades | Cordless Tools | Dado | Dowel Pins | Drill Press | Drills - Electric | Dust Collectors | Grinders - Electric | Hammers - Electric Heat Guns - Electric | Impact Wrench - Electric | Laminate Trimmers | Lathes | Metal Forming | Mortiser | Multi-cutters - Electric | Nibbler - Electric | Pads | Planers - Electric | Plate Jointer | Polishers - Electric | Power Bits | Rotary Tools - Electric Routers - Electric | Sanders - Electric | Saws - Bandsaw | Saws - Circular | Saws - Jigsaw - Electric | Saws - Miter Saws | Saws - Panel | Saws - Reciprocating | Saws - Scroll Saws | Saws - Table Saws | Saws - Tile Saws | Saws - Track Saw | Saws- Cutoff/chop | Screwguns | Screws | Shears - Electric | Specialty Cutting | Tool Accessories

Safety
Caution/warning | Chemicals | Clothing | Ear Protection | Eye Protection | Fall Protection | Fire Safety Etc. | First Aid | Head Protection | Mats | Respiratory Signs | Traction Strips | Traffic Safety | Water

Seasonal Products
Fans | Heaters | Ice/snow | Insulation | Landscaping | Measurements | Pests/weeds Propane | Stove/chimney

Still Growing Strong
Despite some potentially important projects on the horizon, AIH is presently focusing on slow-and-steady calculated growth. The company is focusing its energy towards the construction of new stores, remodeling of old ones, and expansion of its customer base by continuously adding new products and categories.
Through the years, businesses have had to adapt to the influx of national Big Box stores into the area. While many companies have gone out of business, AIH has been able to adapt to the increase of national stores by meeting customers' needs. One aspect that sets AIH apart is the focus the company has on its inventory, making sure that products are always available to meet customers' demands.
Looking For Good Workers
Like any other company, there are several challenges presently facing Alaska Industrial Hardware. The main one is in finding more good people. Maintaining a dependable company relies on the ability to have a strong workforce.
It has also been a struggle to expand in comparison to past years, due primarily to the strong construction season and the high pressure on an ever-diminishing retail workforce. Many states also have been affected by the recent economic problems distressing the country, resulting in decreases in construction and increases in prices. While many businesses have had to close down, fortunately, Alaska has not been hit hard. Kangas states that commercial, industrial, construction, and retail sales remain strong, which are of great importance to the company since these are what make up the vast majority of annual sales.
So what is the secret to their success? A key aspect of any successful company is its ability to see what makes the company work well. Kangas said, "I like to think our people are a 'cut above' the industry standard. When you go into one of our stores we have the expertise to answer a question, solve a problem, or special order that hard-to-find item. We put a lot of effort into product-knowledge training. AIH just completed a 2,200 square-foot training center in Anchorage that supports classroom as well as hands-on training. In addition, our sales staff is expected to complete ongoing training courses throughout the year. The results have created a sales staff we are exceptionally proud of". Kangas says his company is extremely in tune with its employees' needs and concerns, and after 50 years, they still try to run the company as a family business.
Alaska Industrial Hardware has provided Alaskans with the tools they've needed to build into the future for the past 50 years. Not only has it served as a reliable company providing a much-needed service, but it also has been a source of strength in providing economic support by employing people throughout the state.
When many corporations have decided to leave or outsource jobs, AIH has stood by its standard of employing from within the ranks of fellow Alaskans. With such an approach, they have another 50 years of growth bolted down.
From "The Nuts and Bolts of a Successful Company: Celebrating Alaska, 50 years in business" by Ana Gonzalez Ribeiro, which appeared in the November 2008 issue of Alaska Business Monthly. Reprinted with permission of the publisher.
http://www.akbizmag.com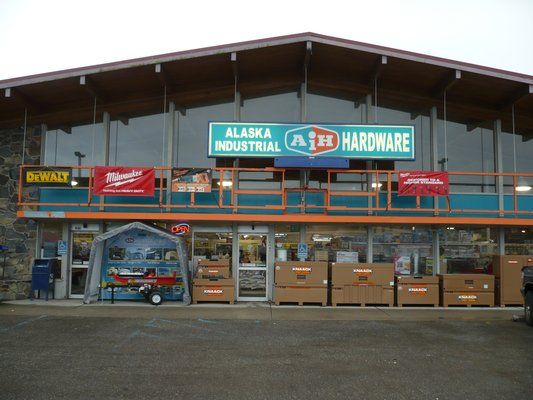 Credit Applications

AIH Credit Application | GHD Credit Application | Web Account Form
Employment Information
Retail Sales:
Blake Hutchins, Director of Store Operations:
bhutchins@aihalaska.com
Warehouse:
Tina Ford, Distribution Center Manager:
tford@ghdalaska.com
Download an Employment Application here
Hours:
Monday: 8:00am - 5:00pm
Tuesday: 8:00am - 5:00pm
Wednesday: 8:00am - 5:00pm
Thursday: 8:00am - 5:00pm
Friday: 8:00am - 5:00pm
Saturday: Closed
Sunday: Closed
Report incorrect information