Phillips Cruises & Tours LLC / 26 Glacier Cruise
Location & Contact:
519 W 4th Ave
Anchorage
,
Alaska
99501
907-276-8023
Email Us
Visit our website
View our Facebook page
View our Twitter page
View our tripadvisor reviews
Description:
Alaska's Most Popular Day Cruises
See magnificent tidewater glaciers and marine wildlife all in one day.
Chugach National Forest is North Americas most northerly National Forest. Prince William Sound is one of the few places left in the world where glaciers are abundant.
Follow the Cook and Harriman expedition route as you journey into Prince William Sound for an unforgettable day viewing ancient ice, majestic scenery and curious wildlife.

At Phillips Cruises and Tours, we provide guests with two options to explore Alaska's natural beauty.
Video courtesy of Alaska.org
Phillips' 26 Glacier Cruise Alaska - Official Video
26 Glacier Cruise
A journey into Prince William Sound is unforgettable. Explore the serenity of Esther Passage. View the majestic alpine and tidewater glaciers in College and Harriman Fjord while traveling in luxurious comfort aboard the M/V Klondike Express, the fastest catamaran in Alaska. Daily Departures.
May 5 - Sept. 30, 2017
12:30 PM - 5:30 PM
Adult $159 + tax/fees | $99 Child age 2-11 + tax/fees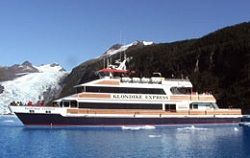 Glacier Quest Cruise
Cruise into magnificent Blackstone Bay, home to seven glaciers and Yosemite-scale waterfalls. Watch for playful sea otters, harbor seals, kittiwakes, bears, whales or mountain goats. The M/V Glacier Quest is a luxury catamaran that will whisk you to your adventure in comfort with large picture windows and heated cabin. Daily Departures.
May 13 - Sept. 10, 2017
1:00 PM - 4:45 PM
$109 Adults + tax/fees | $69 Child age 2-11 + tax/fees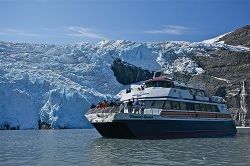 Hours:
Monday: 8:00 am - 5:00 pm | Summer hours: Daily 7:00 am to 10:00 pm
Tuesday: 8:00 am - 5:00 pm | Summer hours: Daily 7:00 am to 10:00 pm
Wednesday: 8:00 am - 5:00 pm | Summer hours: Daily 7:00 am to 10:00 pm
Thursday: 8:00 am - 5:00 pm | Summer hours: Daily 7:00 am to 10:00 pm
Friday: 8:00 am - 5:00 pm | Summer hours: Daily 7:00 am to 10:00 pm
Saturday: Summer hours: Daily 7:00 am to 10:00 pm
Sunday: Summer hours: Daily 7:00 am to 10:00 pm
Payment Options:
Cash, Visa, MasterCard, Discover, American Express
Report incorrect information